Welcome back to another post about the upcoming manga releases I'm excited about for this month. I hope everyone stayed safe over last weekend and is doing okay during quarantine. During these times of working from home and going out less and less, I'm constantly looking for distractions to get me through the day. June provides us with some great new releases to look forward to and take our minds off the pandemic and unrest throughout our countries. Below are the titles I'm most looking forward to in the coming weeks, but I'd love to hear what other volumes are on your list in the comments below.
Spy x Family – Volume 1 (June 2)
I've been seeing so much love for this series being thrown around on the internet, and I really feel like I want to be a part of it given the images and synopsis I've seen so far. From what I've heard from my local comic shop, the first volume is a bit delayed, but it should still come out this week in print format. The story follows a spy that is working to infiltrate an elite private school by acquiring a fake family. Little does he know that the wife he chose is an assassin and the child he chose is a telepath. I can only assume hijinks ensue and heartwarming lessons about family are had. I really feel like I'll enjoy this series from this information, but I guess I won't really know until I get the volume in my hands.
From the art by Tatsuya Endo, I don't think I'll have any trouble enjoying this series through its art. It seems very polished and the character designs paint the main as a very serious man who will probably be brought down by his fake family turned real family in the end? It might end up being something like Hinamatsuri, one of my all-time favorite series about a serious yakuza man made soft by the telepathic daughter he adopts. I really can't wait. I know that there are some free chapters already up on the Viz website, but I think I'll still wait for the full volume to come out.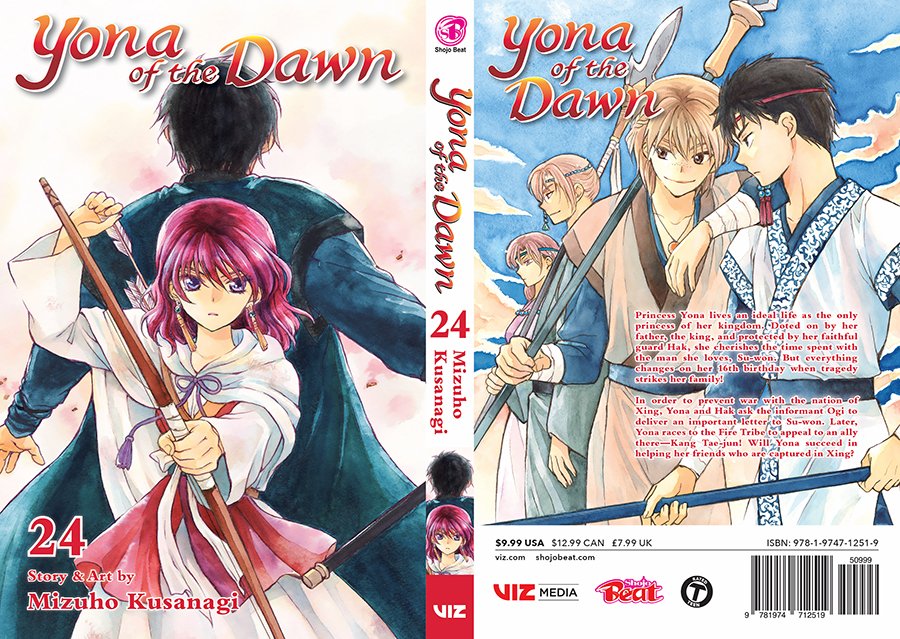 Yona of the Dawn – Volume 24 (June 2)
As you can probably tell if you follow me on twitter, I love this series and have been following the manga since I finished watching the anime. I love the cast of characters, the world, and the fantasy elements. The main character is a fiery red-haired princess who works to save her people from war and I love how she has progressed throughout the series and influenced those around her. The series so far has been moving towards some kind of climax I think with our main character, Yona, being forced to come face to face with the man who killed her father and took over the throne to be the voice of her people and stop a war. I can't wait to see how the characters progress through this conflict to come to terms with what happened in the past. I'm still not sure what I feel for Su-Wong, whether I should hate him or like him, but I think that's the kind of gray area the mangaka is trying to create.
Knight of the Ice (digital) – Volume 2 (June 2)
I think I found the first volume of this series on Twitter, like I do many other manga, and was hesitant on whether or not I should buy it for myself. I was a fan of Yuri on Ice but never a super fan like a lot of people, I just happen to be a fan of the sport of ice skating. It was something I would always try to watch whenever the Winter Olympics were on. Knight of the Ice is dipping back into the fandom that sprouted around ice skating with Yuri on Ice, presenting another romance story between a nerdy ice skater, and, this time, a 20-something magazine journalist. They're childhood friends who have been skating together since they were young. Kokoro went on to become a professional skater and Chitose a journalist. But there's a catch, Kokoro is a huge nerd and needs Chitose there at all his competitions to cast a "magic spell" on him, one taken from his favorite magical girl show.
Volume one turned out to be a pretty sweet story about unrequited love, trying to find your place in the world, and the effects of being in the spotlight. I'm interested to see where this goes in the future as I think these characters are poised to gain a lot of growth as the series progresses. I also think the romance has the potential of being very sweet as the two characters come to realize their feelings for one another, with the conflict of job responsibilities and competitions creating a unique tension between them. I'm really interested in seeing what happens next.
Something's Wrong with Us (Digital) – Volume 2 (June 2)
I included this in the May release post, but it looks like its release was delayed so I'm posting what I wrote in that post here again.
Something's Wrong With Us is something I picked up just recently and has been a series I've been on the fence about ever since. The story is about a young Japanese dessert chef whose mother was framed for a murder when she was younger being dragged into a marriage to the family that framed her. It simultaneously a murder mystery, romance, and food manga that I can't really decide if I like or not just yet. It's definitely on the edge of being a very abusive relationship for the main character, but she's also going in with the knowledge that there is no love between them and she has to solve the mystery of the murder her mother was framed for. I'm hoping the second volume will give me more of an idea if I'll wind up enjoying it and will expand on a lot of the plot points introduced in the first series. My feeling is that this might become somewhat of a bad-guy becomes good-guy/romantic interest towards the end, but who knows. I'll probably be posting a review of the first volume at some point in the future.
Wotakoi: Love Is Hard for an Otaku (digital) – Volume 4 (June 9)
Wotakoi has to be one of my top romance manga's out right now. I can't get enough of the characters and feel a closeness to the two mains and their relationship. I've been waiting a long time for this volume to come out. It feels like it kept getting repeatedly delayed since it was announced to be coming out last year. Now the digital edition is coming out this month, with the paperback still delayed to later this year. I'll probably wind up getting the digital edition just to read the story and then add the paperback to my collection later for that sense of satisfaction.
Narumi and Hirotaka are one of those couples that you find yourself rooting for because they genuinely care for one another. There are some tense moments, but there are even more soft and heartwarming ones as they both try to transition their relationship into one that includes romance. The nerdy elements in the story are so relatable and create a great mix of personalities and interests within the group. I'll really start gushing about the series if I go on, but suffice it to say that it's a great series and I can't wait to get my hands on the next volume. If you have no idea what I'm talking about, check out my review of the manga and the anime. 
Witch Hat Atelier (Digital) – Volume 6 (June 16)
Witch Hat Atelier is also one of my favorite recent series to come out in manga form. The art is fantastic, as is the world and the characters. The last five volumes have done a great job of building up this world of magic and mystery, of class struggle between magic and non-magic users, and the conflicts between different factions of magic users. I wouldn't miss a single volume and I don't intend to, it's just that good.
Stories about witches and magic users have always been one of my favorites and I love seeing the different ways in which authors and creators craft their magic systems and world surrounding it. Witch Hat Atelier gives us a semi-medieval world filled with magic where only certain families are allowed to wield magic and the secrets of using magic are kept extra close for fear of an "outsider" finding out. Just the world-building in this was enough to pull me in. The magic system, the various environments, and unique uses of magic they come up with creates a really nice background to a heavier story about redemption, tough choices, and courage in the face of danger. I encourage you all to start reading if you haven't already.
Abe-kun's Got Me Now (Digital) – Volume 1 (June 23)
Now this manga I know next to nothing about. I just saw it on one of the new release lists as I was looking up titles for this post, but I figured why not add something new here for me to try out. Abe-kun's Got Me Now is a shoujo romance about a high school girl and their school's number one karate champ. The description Kodansha has up reads like this: "Akari couldn't think less of her school's karate champ, Abe-kun, despite him being the national champion. He's giant, uncouth, and couldn't be more different than her sweet angel and childhood friend, Takuto. But when Abe-kun injures his arm protecting her, she takes it upon herself to get him healed—after all, the school's pride is at stake—but finds the tables suddenly turned when he confesses to her! Now she's the goal he's aiming for, and she'll soon find out how driven a national champion can be!" It sounds like it could be interesting or it could be fairly trope-heavy, I won't really know until I give it a try, but I am hoping for the best!
~~Thanks for Reading!~~