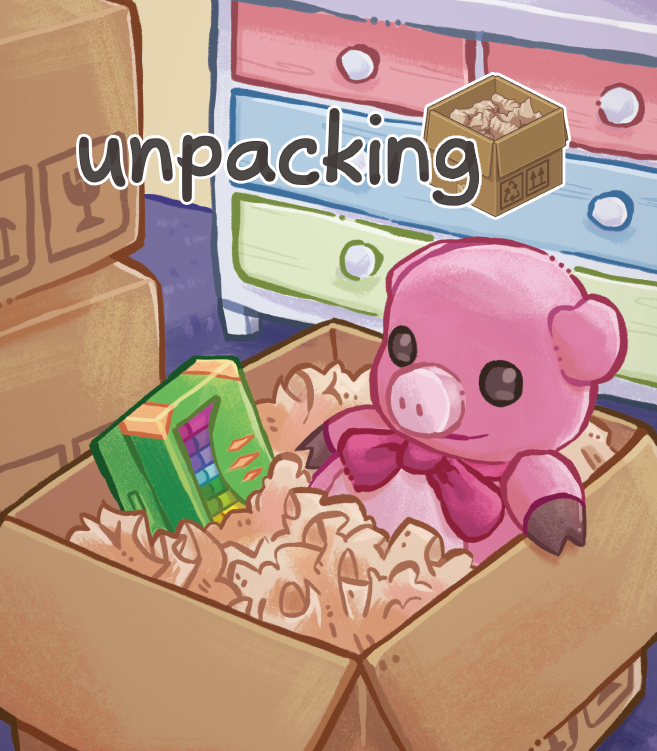 I'm always on the look-out for some new indie games to play, and saw this one pop up when it was still a free demo on Steam. I gave it a chance then, and found that it was right up my alley and appealed to a part of myself that needed a zen, chill game to play at the end of the night. And, if you're like me, and have a streak of Type A organization in your personality, you'll enjoy putting every little thing where it belongs and designing the perfect living space full of meaningful stuff.
If you haven't heard of Unpacking before, you can watch the trailer here on Youtube. The game is created by Witch Beam and is described on their website as part block-fitting puzzle and part home decoration. Over the course of multiple moves, you get the chance to familiarize yourself with the characters through their stuff, finding the best way to fit and merge their lives together into new spaces. You get to create satisfying living spaces while also picking up on clues to the lives and big changes the characters go through over the years. 
The game can easily be finished in around 5 hours, but it's short time-span doesn't mean that it's not packed (haha!) with story, puzzling moments, and clues to piece together. The controls are simple, and can easily be played on keyboard/mouse or gamepad. In fact I believe the game is currently available on PC, Nintendo Switch, and XBox, so you'll have a high variety of ways and means to play. Though Witch Beam has only made one other game before, I think they showed real care and creativity with the creation of Unpacking.
The focus of the gameplay loop is on one or more rooms that you switch between, including bedrooms, offices, bathrooms, kitchens, and living rooms. You start with just one room as you play our main character as a child, putting away all of her things in her childhood bedroom. All of your things are packed inside boxes at the start, and you spend each level meticulously opening each box, selecting an item, and finding the perfect place for it. Besides the satisfaction of organizing everything into an appealing set-up, you slowly learn about our main character bit by bit by pulling out her things and seeing what she owns.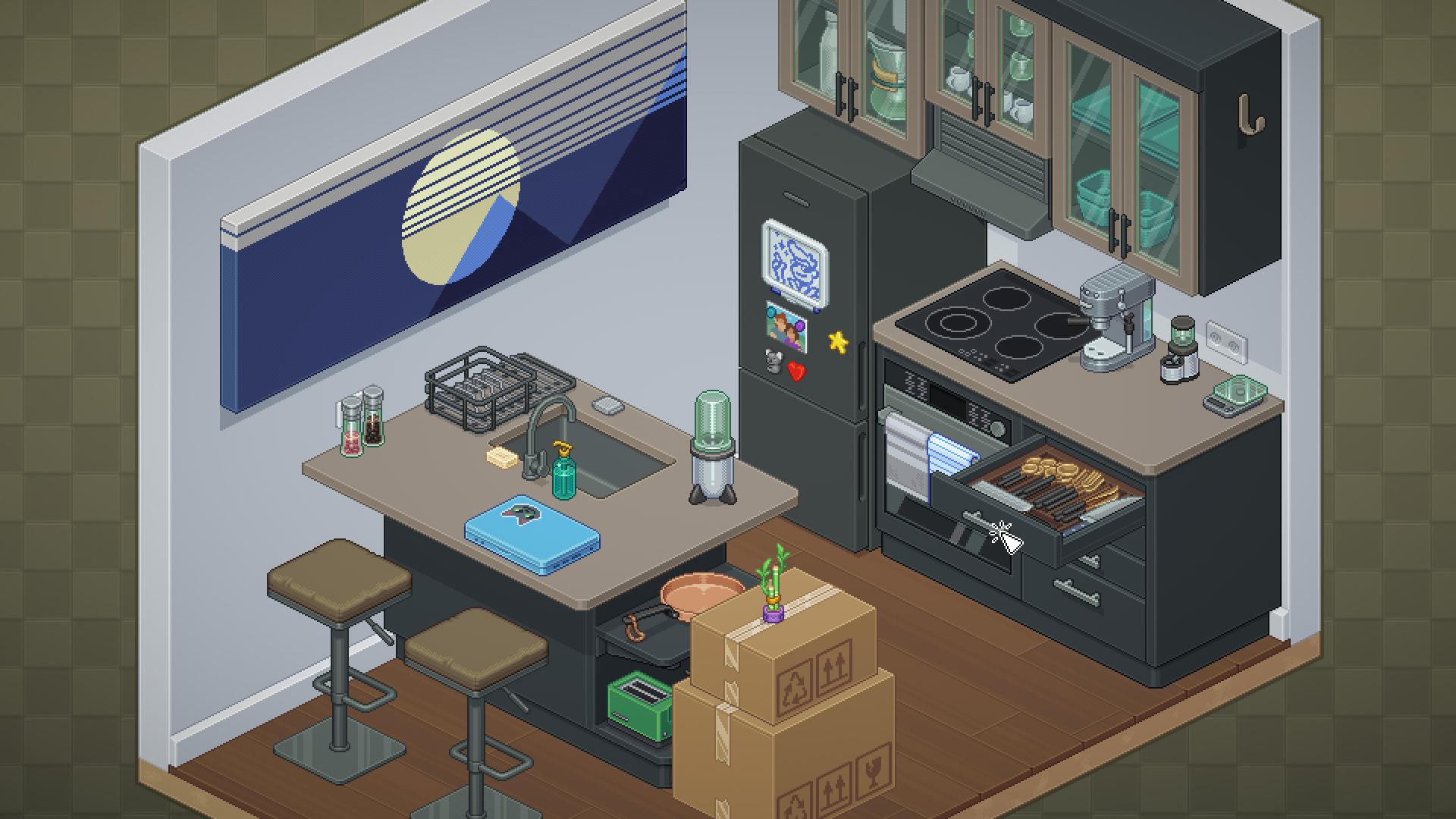 One of the best examples of this is her collection of figurines from the places she visits over the years as you move from place to place. Over the course of the game, you see that she is collecting more and more of these, and you can follow her world travels as she adds a double decker bus from England, an Eiffel Tower from Paris, a Leaning Tower of Pisa, and many more. One of the cutest things you unpack is her collection of little chicks and Mama chicken that just keeps growing as the years progress.
Among her things we see her interests and the progression of her career. She's interested in music, gaming, art, reading, and movies. We see her add to her art supplies over the years and come to see her develop this interest into a career in art. The culmination of this is the last move where you unpack her stack of children's books and awards and realize that she's gained real success by making her own picture book.
However, I think the most interesting part of playing this game is seeing how her life changes as she moves from place to place and getting some idea of her relationships with other people. The first instance of this is when we see her moving into her boyfriend's place. At this point, I think you'll have a pretty good sense of who she is as a person, and I definitely started to get the sense that they don't make a good fit. The moment it sunk in for me was when I couldn't find a place to hang her college degree, and the only place I could put it was under the bed or in the closet. It was like the game was telling me this guy did not respect her dreams or her as a person. It didn't bode well for their relationship. 
And I wound up being right as the next level we see her moving back into her childhood bedroom after breaking up with him and moving out, having to start all over. One of the telling things you unpack in this level is an old picture of you and him, but the game will not allow you to hang it up, so you just shove it to the back of your closet to never be reminded of him again. Then, as the levels progress, we find out you have come out as gay and started a relationship with another woman as you unpack her stuff into your apartment, merging clothes and toothbrushes.
This level was honestly a very moving experience for me, especially as I pulled out a stuffed lion from the girlfriend's boxes and set it next to my own stuffed pig. Like this woman is definitely right for me! I loved all the subtle clues and story bits I got throughout the levels, and enjoyed the surprises and challenges the game fed me as I pulled out one unexpected thing after another.
So if you're looking for a short, zen experience you can play over and over again to create different satisfyingly organized rooms, take a look at Unpacking. You can find it on multiple platforms. And if you've played it already, let me know what you thought in the comments below!
~~Thanks for Reading!~~
---
Follow me on Facebook, Twitter, and WordPress for all Bloom Reviews content updates and news!
If you like what I do, consider supporting me on Ko-fi or Patreon.